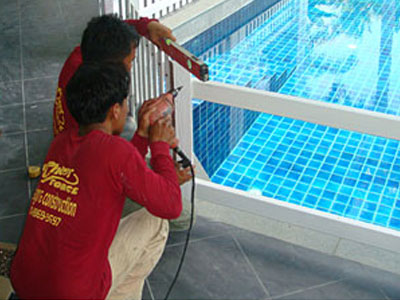 For a Thai owned company Cheer Force has a very western approach which helps to breed confidence among customers. On the prepared quotation which is provided for every job, no matter how small, everything is laid out and transparent, including the cost of materials, labour and even what profit the company is making. This is all very important. For instance; if you receive a quote, and it appears to be expensive, then you can look at the breakdown and see where the problem is. If a particular material is pushing up the overall price then Cheer Force will provide a second quote with an alternative material that could bring the quote down to match your budget.
As with many western tradesmen Cheer Force operates a payment system where the customer pays 60% of the total before work starts, to cover materials and labour etc, and the final 40% is paid upon completion.
Cheer Force has a number of multi-talented staff which means that you can let the company take care of everything including design, tiling, roofing, woodwork, painting, construction, guttering, electrical work, plumbing, repairs, restoration and renovation. Basically if you need something designed, built, repaired or maintained then Cheer Force can usually do it.